Huron Valley Tennis Club is The 2013-2014 SE Michigan Women's B3 Travel League Champion!  The B3 Women's team, led by future Hall of Fame player/captain Sanne Krummell, capped an impressive 10 win, 4 loss, 2 tie regular season with 2 stellar playoff wins to capture the championship! They overcame injuries, adversity, and tough competition to defeat the perennial powerhouse Liberty A for the title. It was a total team victory, with each member contributing their all. Thanks, Ladies, for bringing home the championship to HVTC. Autographs available upon request!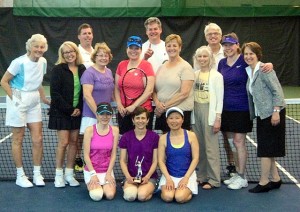 Back Row from left: B 3 coaches Jim Sayed, Martin Topliss, Clare North
Middle Row from left: Mary Hensel, Willow Link, Jane Levy, Carolynn Hayman, Connie Preis, Marjorie Sarbaugh-Thompson, Amy Kullenberg, Mary Buckingham
Kneeling from left: Catherine Mueller, Captain Sanne Krummel, Young Foreman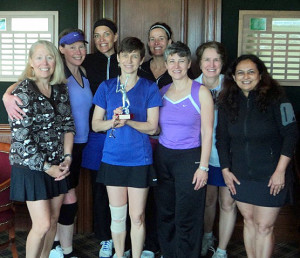 Back Row from left: Willow Link, Amy Kullenberg, Kathie Seifert, Doyle Levesque, Mary Buckingham, Roopa Gurm.
Front Row from left: Captain Sanne Krummell, Loren Levy
Not pictured: Anette Kretzler, Cathy Gendron, Beverly McCutchen, Margaret Fleming, Rachel Cwiek, Nidhi Nigam,Akiko Kuwabara, Patricia Belanger, Eva Flesher, Sarah VanNewkirk Conner, Sheri Schroeder, Shu-Chen Huang